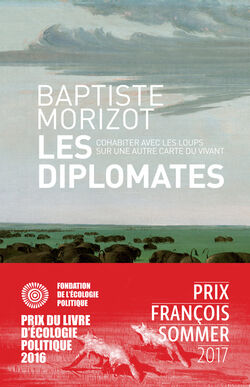 The Diplomats
Living with wolves
Baptiste Morizot
320 p., 2016
ENGLISH RIGHTS SOLD
This book has been a bombshell in France. This model of diplomacy is the foundation of what will become in the future the source of new forms of law, of properties relations and of sovereignety.
How do we react to the sudden return of wolves to France, to their dispersal throughout a French countryside that, because of rural flight, is nearly as empty today as it was in the days of ancient Gaule? This is, first and foremost, a geopolitical problem. The return of the wolf challenges our ability to coexist with the very biodiversity that gives us life—and challenges us to invent new forms of diplomacy.
Our sense of property and borders comes from a "sense of territory" that we have in common with other animals. And our diplomatic skill has its origins in an animal know-how that is inscribed deep in our evolutionary history.
Following in the footsteps of Charles Darwin, Konrad Lorenz, Aldo Leopold, and many other "diplomats", Morizot offers us an essay on animal philosophy.
Like a prairie fire, this book sweeps across and renders fertile the great topics of environmental philosophy, ethology, and even ethics. It draws for us a picture of a world where we might "live intelligently with that which, inside of us and outside of us, refuses to be domesticated."